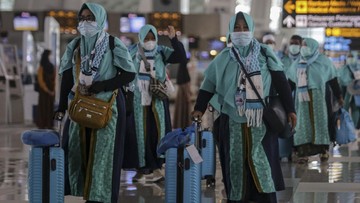 Jakarta, CNN Indonesia
—
Chairman of the Organizing Union Umrah Indonesian Hajj (SAPUHI) Syam Resfiadi stated: umrah fees This year, it is estimated to increase to Rp. 35 million to Rp. 40 million per month jemaah.
The price rose rapidly compared to the price before the pandemic which was only priced at around Rp. 20 million-Rp. 25 million.
According to him, prices rose drastically because of mandatory medical tests and quarantine. Syam detailed that at least IDR 28 million was needed for the cost of Umrah, PCR, and quarantine in Saudi Arabia.
However, when calculating the quarantine upon arrival in the country, he estimates the price will increase to Rp. 35 million-Rp. 40 million per person.
"Rp. 28 million is only for the Jeddah to Jeddah package, including PCR and quarantine in Saudi, but this is for the lowest price. It all depends on whether or not the quarantine hotel we want, must also cooperate with the airline," he told CNNIndonesia.com, Monday (10/1).
Although he has estimated the price of Umrah, Syam admitted that his party is not ready to send the congregation in the near future due to the long quarantine period.
He explained that for now the government requires mandatory quarantine of 7 days and 6 nights in hotels. If the PCR at the airport is positive, then the congregation will be transferred to Wisma Atlet.
"Our congregation mostly takes only 12 working days off," he added.
As is known, the Ministry of Religion (Kemenag) for the first time since the COVID-19 pandemic released 419 Umrah pilgrims at Pondok Gede Hajj Dormitory, East Jakarta, on Saturday (1/8).
In fact, the initial plan for the departure of Umrah was set on December 13, 2021. However, the Ministry of Religion is still holding back and canceling the plan given the condition of the COVID-19 pandemic at the end of the year.
[Gambas:Video CNN]
(wel/one)

fbq('init', '1047303935301449'); fbq('track', "PageView");
.