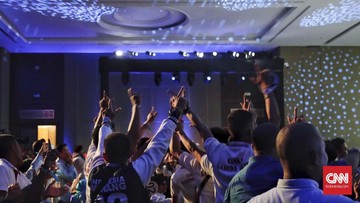 Jakarta, CNN Indonesia
—
Political observer from Syarif Hidayatullah State Islamic University (UIN), Adi Prayitno, stated that the coalition of political parties and the determination of the presidential candidate pair (presidential candidate) and the vice presidential candidate (cawapres) who will be promoted to presidential election 2024 which is ideally done earlier.
However, according to him, the steps that can make political parties and candidates have more time to socialize, consolidate, and penetrate are difficult and take a lot of time because they are looking for the best members and figures.
"It depends on the sect. Some are declaration and coalition sects at the beginning. There are also sects that play at the end. It all depends on the scenario and political strategy," Adi told CNNIndonesia.com, Monday (10/1).
"But on average there are many who play at the end because all parties and candidates are looking for the ideal partner to win, so (the determination of the presidential candidate) is tough," he added.
Adi is of the opinion that a number of figures who have begun to talk about pairing up in the upcoming presidential election, such as the duet between Airlangga Hartarto and Anies Baswedan or Ganjar Pranowo, are still personal opinions.
According to him, the discourse is only limited to provoking public discussion, but not the official stance of political parties.
"Airlangga has party tickets, although his electability is still low. Ganjar and Anies do not have party tickets, but they have a niche. They both need each other," said the Executive Director of Political Parameters.
He suspects that Golkar is considering the right person to be Airlangga's partner in the 2024 presidential election. According to Adi, the duet between Airlangga and Ganjar is difficult to realize due to PDIP factors.
"There are two problems. First, Ganjar has not received the approval of the PDIP, which looks more inclined to Puan. Second, PDIP seems to be more intimate with Gerindra than Golkar," he explained.
Meanwhile, he added, Airlangga's duet with Anies was facing problems finding the support of other political parties to meet the 20 percent presidential nomination threshold.
"With Anies, it's possible, but we have to work hard to find another party to meet the 20 percent threshold. Including whether Airlangga wants to have a duet with Anies, who has been considered close to the right group," said Adi.
For information, a number of parties encourage political parties to declare coalitions and pairs of presidential and vice presidential candidates that will be carried in the 2024 presidential election early.
The founder of the survey institute and political consultancy Cyrus Network, Hasan Nasbi, said that one of the factors that could change the political map of the 2024 presidential election was an earlier coalition between political parties and an earlier selection of candidates.
According to him, the public really doesn't know who has the ticket to run in the current 2024 presidential election, even though there are three political parties that have the potential to carry their own cadres because they only need one additional political party, namely PDIP, Golkar, and Gerindra.
"These are two things that can change the survey map. When it's wrapped, I'm sure people will see, oh, this is the one who already has tickets," said Hasan.
(mts/DAL)


[Gambas:Video CNN]
fbq('init', '1047303935301449'); fbq('track', "PageView");
.