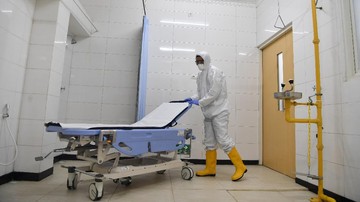 Jakarta, CNN Indonesia
—
Deputy Governor of DKI Jakarta Ahmad Riza Patria said the bed occupancy rate or bed occupancy rate (BOR) in the hospital treating the patient Covid-19 in the capital city rose to 9 percent.
"Indeed, we need to say that recently there has been an increase related to BOR, now the BOR on January 9 has increased to 9 percent. From 3,885 beds, 348 are used, yes, there is an increase from what previously had fallen to 4 percent," said Riza at City Hall. Jakarta, Monday (10/1).
In addition to the increase in the occupancy of beds for Covid-19 patients, Riza said the occupancy rate of the intensive care unit (ICU) in DKI had also increased to 5 percent.
"From 4 percent, up 1 percent. This indicates that our vaccine is successful, that admission to the ICU continues to decrease even though there is an increase of 1 percent," he said.
Separately, the Head of Disease Prevention and Control, DKI Jakarta Health Service (Dinkes), Dwi Oktavia explained that the number of active cases in Jakarta today, Monday, increased by 255 cases, bringing the number of active cases to 2,129 people.
"It should be underlined that 1,603 of the total active cases are foreign travelers," said Dwi.
He also appealed to the public to be aware of the transmission of the Omicron Variant virus, which is now also increasing in Jakarta.
Dwi explained, of the 407 infected people, 86 percent or as many as 350 people were foreign travelers, while the other 57 were local transmissions.
"The 3T efforts continue to be encouraged, in addition to the Covid-19 vaccination which is also still ongoing with a wider scope," he said.
(yes / DAL)


[Gambas:Video CNN]
fbq('init', '1047303935301449'); fbq('track', "PageView");
.