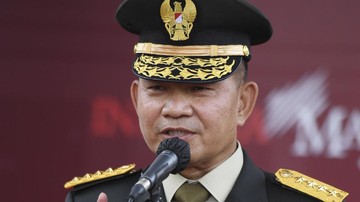 Jakarta, CNN Indonesia
—
A video showing the Army Chief of Staff (KSAD) General Sitting Abdurachman singing a song called 'Let's Drink' with the soldiers circulated on social media.
One of them was uploaded to the Instagram account @dudung.ar88. The upload also includes a caption that reads 'Let's have a coffee first…'.
In the video, Dudung is seen wearing a T-shirt wrapped in a jacket. He was seen singing on a green field while dancing in front of a microphone.
Behind Dudung was a line of soldiers dancing to the tune of Dudung's music.
Then, in the middle of the video, Dudung is seen with the soldiers carrying white cups and dancing together.
Here are the lyrics for Ayo Ngopi, sung by Dudung, which went viral on social media.
The president has coffee, the governor has coffee, the sub-district head has coffee, the RT RW also has coffee
Bang ucok has coffee, Buyung has coffee, kang Asep has coffee, bli Ketut also has coffee
Farmers in the fields, students at school on love coffee all
The judge is coffee, the prosecutor is coffee, the lawyer is coffee, the defendant also has coffee
Mr. coffee driver, conductor of coffee, Mr. Gojek has coffee, sweeper also has coffee
Who is it, where is it from, everyone likes coffee
Whatever the work, wherever the place is, let's all have coffee
CNNIndonesia.com contacted Army Chief of Staff General Dudung Abdurrachman to ask for clarification on the video, but the person concerned has not responded until this news is revealed.
(dis/bmw)


[Gambas:Video CNN]
fbq('init', '1047303935301449'); fbq('track', "PageView");
.