Asked about the Dream Team, Zeys: I'm all RRQ's Dream Team, I'm a big fan of the RRQ team now!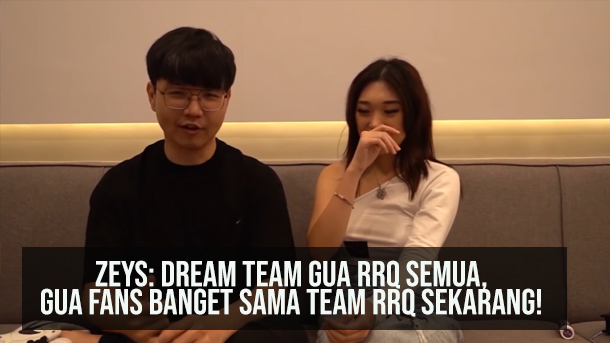 Bjorn Ong or commonly referred to as Zeys is the coach of EVOS Esports in the Mobile Legends division. Zeys himself said something that was quite surprising for fans and fans of Mobile Legends during a Q&A with Livy Renata on Livy's personal YouTube. How not, Zeys when asked about the dream team in Mobile Legends answered four RRQ players and only one EVOS Esports player. In addition, he also said that he really idolizes the current RRQ Hoshi squad.
"This is the Dream team, it's not the best. Offlane Pendragon, Roamer Vynnn, Midlane Clay, Goldlane XINNN, and Jungler Alberttt. My dream team is RRQ all. I'm a big fan of RRQ now." Zeys said in a Q&A with Livy Renata.
Also read this:
» [VIDEO] Peat to be Unemployed? Here's How to Livestream on HP to Be Your Dream Streamer!
» Wild Rift Esports Announces Global and Regional Tournaments For 2022, Is Your Team Ready?
» Leaks from Trusted Leakers! Mobile Legends x Jujutsu Kaisen is Real?
» Have Ultimate Like Gojo Satoru Kick! Leaked New Mobile Legends Hero, Xavier!
» Not Only In Genshin Impact, Mobile Legends Is Also Affected By Censorship On The Chinese Server!
Bjorn himself said that it was true, some time ago he also said that the RRQ squad was a dream squad even said Bjorn He has also often communicated with Mr. AP about this.
Source: Youtube Livy Renata
In addition to the main news in this article, the KotGa Crew also has an interesting discussion that you can watch in the video below.


TAGS
mlbb

mobile legends

mobile

sports
If you want to send articles, collaborate events and place advertisements (adverstisement) you can email the editor[at]boxgame.com or Hotline (021) 93027183
.