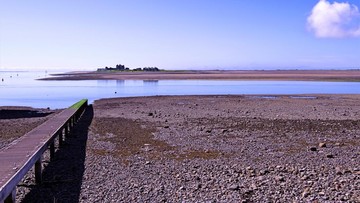 Jakarta, CNN Indonesia
—
Have you ever dreamed of being a raja? Lead a place or empire while running a business?
Not just a fantasy, a small island in England called Piel really looking for a 'king'. This 50-acre island is located about half a mile from the Furness peninsula on the west coast of northern England.
On the island, stands a small inn called The Ship Inn. The lodge in the middle of the island also has a pub that is crowded with tourists in April to September. The island is looking for a 'King' of the island as well as the king of lodging.
Later 'The King' will entertain tourists at this pub as well as be responsible for overseeing the island, even during the off-season months.
Piel Island Local Authority Barraw Borough Council said the inn's history goes back 300 years with its first recorded owner, Edward Postlethwaite. He served from 1746-1766.
There is no clear record of the title or title of 'King of Piel' for those who run the pub business on the island. But this has been a tradition since the 1800s.
Quoted from Food and Wine, during the coronation 'King Piel' had to sit on an ancient chair, wearing a helmet and holding a rusty sword, while buckets of beer were dumped over their heads.
The tenure of a 'Piel King' could at least meet the rent of 10 years. Later the local government and pub companies will work together to ensure that this business will continue to run. After the contract expires, Piel Island will look for the next 'king' again.
John Murphy who had been the 'King of Piel' for 40 years told the beauty in that. Tourists can travel to the island without needing to take the ferry at low tide.
He also said that being a 'King of Piel' is not easy, because you have to be able to run a pub business as well as oversee an island.
"You can't just stop by Tesco for a piece of bread when you're on Piel Island. You have to have dedication and a strong desire for isolation and peace. It takes a special personality," says Murphy.
(auz / chs)

[Gambas:Video CNN]
fbq('init', '1047303935301449'); fbq('track', "PageView");
.