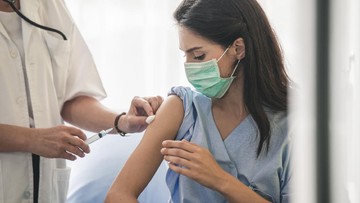 Jakarta, CNN Indonesia
—
Recent studies show vaccines Covid-19 make cycle menstruation longer than usual. This finding also validates the complaints that many women express on social media after the vaccine.
However, researchers say changes in the menstrual cycle is nothing to worry about. Researchers also confirmed that the Covid-19 vaccine is safe for fertility and pregnancy.
Research from Oregon Health & Science University shows that after getting a dose of the Covid-19 vaccine, women have an average of one day longer menstrual cycles.
"The bottom line is we really think these findings are reassuring for health and reproductive health," said researcher Alison Edelman, quoted by CNN.
The study analyzed data from about 4,000 women who used the Natural Cyles app to track their periods. About 2,400 were vaccinated during the study and about 1,600 were not vaccinated.
Overall, only about 5 percent of women experienced a clinically significant change in their menstrual cycle of more than 8 days.
According to the researchers, the increase in menstrual cycle length was mostly found in women who received doses of mRNA vaccines, such as Pfizer/BioNTech or Moderna. Researchers explain the mRNA vaccine creates a strong immune response that affects the regulation of the menstrual cycle.
Researchers say these changes are temporary and can return to normal within a few months.
"This study, on the one hand, validates what some women are saying on social media. But overall, at a population health level, this slight change is actually not clinically significant. It shouldn't affect fertility and the benefits of being vaccinated and not getting Covid." Bianchi said.
(ptj)

[Gambas:Video CNN]
fbq('init', '1047303935301449'); fbq('track', "PageView");
.