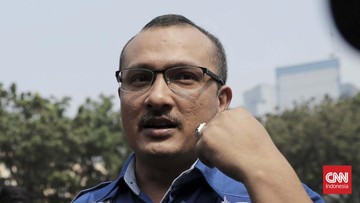 Jakarta, CNN Indonesia
—
The younger brother of the former 4th President of the Republic of Indonesia Abdurrahman Wahid alias Gus Dur, Lily Chodijah Wahid admits to being a witness to social media activists Ferdinand Hutahaean embrace Islam or convert in 2017.
"That's right, I witnessed [bersyahadat], "Lily told CNNIndonesia.com, Friday (6/1).
Lily said Ferdinand confessed as a sign of embracing Islam in front of former MUI General Chairman Ali Yafie.
Lily said that Ferdinand had expressed his desire to convert to Islam because he was interested in Islam. Hearing his intentions, he then looked for a kiai to witness the procession of Ferdinand's convert to Islam.
He was also willing to be a witness for Ferdinand because he had the intention to convert to Islam.
"That's all there is to it. People want to be Muslim when I don't accompany them. And after that, they never meet again," he said.
"So he testified in front of us. Pak Ali Yafie also witnessed him testify. At that time he was fluent in martyrdom," added Lily.
Ferdinand previously claimed to be a Muslim and had converted to Islam in 2017. However, Ferdinand admitted that he was reluctant to declare himself to have embraced Islam at that time. He holds the principle that religion is for oneself.
"But I don't have to declare myself whether I'm an atheist or I'm Muslim or I'm religious or not. I'm religious for myself," said Ferdinand.
(rzr / DAL)


[Gambas:Video CNN]
fbq('init', '1047303935301449'); fbq('track', "PageView");
.