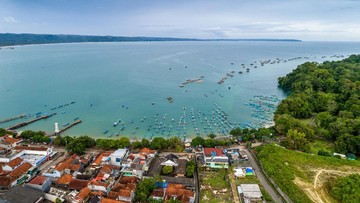 Jakarta, CNN Indonesia
—
The task force (Task Force) The handling of Covid-19 does not record additions to areas that are categorized as green zone corona virus. The green zone is an area that has not experienced additional COVID-19 cases in Indonesia in the past week.
Data from the Task Force as of January 2, which was released recently, noted that green zones were still settled in 106 districts/cities in Indonesia. Hundreds of regencies/cities from 24 provinces that are included in the green zone are mostly from Papua province with 16 regencies/cities registered.
Meanwhile, regions on the island of Java only recorded two regions, namely Pangandaran Regency and Banjar City in West Java which were included in this safe zone category. And all other areas in Java-Bali are listed in the yellow zone category.
The task force also stated that Indonesia had been freed from the red and orange zones in the past week. The red zone is an area with a high level of transmission of the corona virus, aka vulnerable, while the orange zone is at a moderate level.
With these findings, Indonesia has counted 11 weeks of zero orange zone. As for the red zone, it has not recorded additional regions in a row in the last 14 weeks.
Furthermore, the Task Force also noted that the yellow zone or areas with a low risk of Covid-19 transmission did not change compared to a week ago, which was still 408 districts/cities.
Regional risk zoning maps are calculated based on public health indicators using scoring and weighting. The indicators used are indicators of epidemiology, public health surveillance, and health services.
The details of the green zone in Indonesia are as follows.
West Java
Pangandaran Regency
Banjar City
North Sumatra
South Nias Regency
North Nias Regency
West Nias Regency
Coal District
Labuhanbatu Regency
North Labuhanbatu Regency
Humbang Hasundutan Regency
Kabupaten Pakpak Bharat
Sibolga City
Cliff City
Padangsidimpuan City
Gunungsitoli City
South Sumatra
Musi Banyuasin Regency
Musi Rawas Kabupaten District
West Sumatra
Agam District
South Solok Regency
Padang Pariaman Regency
Tanah Datar District
Pariaman City
Payakumbuh City
City of Sawahlunto
Bukittinggi City
Bengkulu
North Bengkulu Regency
Rejang Lebong Regency
Kepahiang County
Mukomuko County
Lebong Regency
Seluma County
Bengkulu City
Jambi
Sarolangun District
East Tanjung Jabung Regency
Bungo County
Kerinci District
Full River City
Aceh
Pidie Jaya Regency
Bener Meriah Regency
Gayo Lues District
Lhokseumawe city
Riau
Siak District
Dumai City
Riau Islands
Natuna Regency
Bintan Regency
Anambas Islands District
Tanjungpinang City
West Nusa Tenggara
Central Lombok Regency
East Nusa Tenggara
Alor District
Southwest Sumba Regency
North Central Timor District
Central Kalimantan
South Barito Regency
Murung Raya Regency
East Kalimantan
Mahakam Ulu District
South Kalimantan
North Hulu Sungai Regency
Tanah Bumbu Regency
West Kalimantan
Melawi District
Southeast Sulawesi
Kolaka District
North Kolaka Regency
North Konawe District
Konawe Islands District
Konawe District
Central Buton Regency
North Sulawesi
Southeast Minahasa Regency
South Bolaang Mongondow Regency
Sangihe Islands District
South Sulawesi
Sinjai Regency
Bulukumba Regency
Soppeng Kabupaten
Pangkajene Regency and the Islands
West Sulawesi
North Mamuju Regency
Gorontalo
Pohuwato Kabupaten County
Boalemo Kabupaten District
Maluku
East Seram Regency
Southwest Maluku Regency
Central Maluku Regency
Southeast Maluku Regency
Buru County
South Buru District
Aru Islands Regency
Tual City
North Maluku
Sula Islands Regency
Taliabu Island Regency
Morotai Island District
East Halmahera Regency
Central Halmahera Regency
North Halmahera Regency
Ternate City
City of Tidore Islands
Papua
Dogiyai County
Mappi . County
Yapen Kepulauan Islands District
Central Mamberamo District
Mamberamo Raya District
Paniai District
Deiyai ​​District
Boven Digoel . County
Puncak Jaya Regency
Waropen Kabupaten
Keerom County
Asmat . District
Star Mountain District
Supiori Kabupaten
Lanny Jaya District
Peak District
West Papua
Arfak Mountain District
Wondama Bay District
(khr/ain)


[Gambas:Video CNN]
fbq('init', '1047303935301449'); fbq('track', "PageView");
.