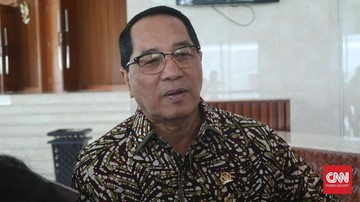 Jakarta, CNN Indonesia
—
Chairman of the DPP Golkar Party, Firman Soebagyo, spoke up in response to the discourse of the DKI Golkar DPD which carried the duet of the General Chair of the Golkar Party, Airlangga Hartarto with the Governor of DKI Jakarta. Anies Baswedan as a presidential and vice presidential candidate (candidate-cawapres) in the 2024 presidential election.
According to him, politics is dynamic and all possibilities related to the presidential-vice presidential candidate pair that will be carried by his party can happen.
"Politics is dynamic," said Firman when contacted CNNIndonesia.com, Thursday (6/1).
Firman also said that the discourse was legitimate and depended on Airlangga as the presidential candidate his party would carry.
Furthermore, he conveyed, the decision regarding the figure his party would carry as a presidential-cawapres pair would depend on the dynamics that develop within his party in the coming days.
Firman stated that his party has a mechanism in determining the pairs of presidential and vice presidential candidates that will be carried in the upcoming 2024 presidential election.
"Yes, we will follow the party mechanism later," said Firman.
Previously, the Secretary of the DKI Jakarta Golkar Party DPD Basri Baco opened up the possibility of a duet between Airlangga and Anies as a running mate for the presidential and vice presidential candidates in the 2024 presidential election.
Basri made this statement in response to those who said that Anies's chance to run as a presidential candidate was difficult because he did not have a political vehicle.
"You don't have to have a party, if you cooperate with those who have a party, you can. If you partner with Airlangga-Anies, you can," said Baco during a conversation with CNNIndonesia.com, Wednesday (5/1).
He believes the Airlangga-Anies duo will be able to compete with the Gerindra Party chairman Prabowo Subianto's duo with PDIP DPP Chair Puan Maharani, which is likely to be carried by the PDIP and Gerindra coalition.
(mts/DAL)


[Gambas:Video CNN]
fbq('init', '1047303935301449'); fbq('track', "PageView");
.