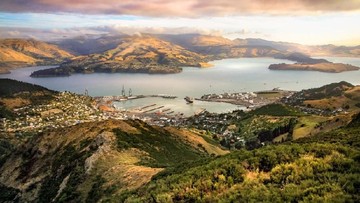 Jakarta, CNN Indonesia —
Continent Zealandia lost millions of years ago has been found, and is being mapped by researchers.
Researchers are conducting an ocean mapping expedition to delineate the boundaries of the continent of Zealandia, the lost continent of New Zealand and New Caledonia in the South Pacific.
Zealandia separated from the great continent of Gondwana between 79 and 83 million years ago. Apart from New Zealand and New Caledonia, fragments of this large continent are now on the seabed and are being investigated for their existence.
Zealandia is not the only continent apart from the larger continent, Zealandia is the largest with an area of ​​1.9 million square miles (4.9 million square kilometers).
It is six times larger than the next largest continental fragment, the Madagascar microcontinent.
Zealandia, also known as Te Riu-a-Māui in Māori, was claimed as a continent in 2017. Since then, researchers have been working to map the lost continent.
However, the mapping process did not run easily, because 94 percent of the continent's territory is under water.
An earth scientist at the University of Queensland in Australia, Derya Gürer and his colleagues have reportedly collected new data on the northwestern edge of Zealandia which lies offshore in Queensland's Coral Sea Marine Park.
Researchers spent 28 days aboard the Falkor exploring the region, mapping 14,285 square miles (37,000 sq km).
"Our expedition collected seafloor topographic and magnetic data to gain a better understanding of how the narrow connection between the Tasman and Coral Seas in the Cato Trough region – the narrow corridor between Australia and Zealandia – formed," Gürer said in a statement. a statement.
Gürer said that the area between the Australian plate and the Zealandia plate is likely to be very complicated. According to Gürer there may be several submerged microcontinents in the region, all of which broke off from the main continental mass when Australia broke away from Gondwana.
The great continent of Gondwana itself included what is now South America, Africa, Antarctica, Australia, Zealandia, Arabia and the Indian subcontinent.
The continental crust that forms the microcontinent is different from the oceanic crust around the ocean floor, which is denser and thinner than the continental crust.
Reported from Live Science, the mapping is part of the Seafloor to Seabirds expedition in collaboration with the Schmidt Ocean Institute.
Continue to the next page..
Zealandia and the Ring of Fire
READ NEXT PAGE
fbq('init', '1047303935301449'); fbq('track', "PageView");
.