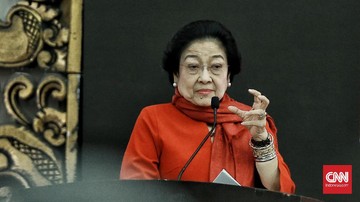 Jakarta, CNN Indonesia
—
Central Executive Board (DPP) PDIP have taken legal steps following the hoax news that again rumored their General Chairperson, Megawati Soekarnoputri die.
PDIP Secretary General Hasto Kristiyanto said his party had reported the case to the authorities. However, he did not elaborate further regarding the report.
"Those who have made false news are really immoral and the legal team immediately reported the matter to law enforcement officials," Hasto told reporters. CNNIndonesia.com, Wednesday (5/1).
He confirmed that Megawati is currently in good health. On Wednesday (5/1), the 5th Indonesian president gave directions in the preparation meeting for the party's 49th anniversary which will be held on January 10.
Mega said Hasto also had time to make corrections to several agendas in the anniversary, such as the archipelago's culinary festival by displaying 10 side dishes of rice, physical health exercises, and several other activities.
"Megawati's mother is in good health, this morning she gave instructions related to the preparations for the 49th Party HUT on January 10," said Hasto.
The hoax news of Mega's death this time was spread through a video on social media. A video from the TikTok account @angelyOkp shared a video that gave the narrative of Megawati's death.
"Megawati dies, goodbye Megawati," the video narration wrote.
The hoax news of Mega's death is not the first time. In September 2020, Mega was also reported to have died, through a video that used the name of PDIP politician Henry Yosodiningrat on YouTube. Henry has later reported the owner of the account and the case ended amicably.
(thr/DAL)


[Gambas:Video CNN]
fbq('init', '1047303935301449'); fbq('track', "PageView");
.