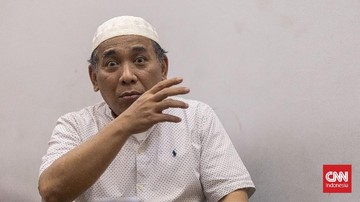 Jakarta, CNN Indonesia —
General Chairman of Nahdlatul Ulama (PBNU) Yahya Cholil Staquf Appreciate the snaring police Bahar bin Smith as a suspect in spreading false news or hoaxes.
Yahya said that all parties suspected of spreading radical propaganda and false news must be dealt with immediately.
"I really appreciate the actions of the Police who have taken firm action against acts of intolerant behavior and radical propaganda, even the spread of false information by some parties, including in particular by Habib Bahar bin Smith," Yahya said in a video received on Tuesday (4/04). 1).
Yahya assessed that the police's firm action at this time was necessary to prevent erroneous perceptions of Islamic law and the widespread tendency to believe in radical and intolerant propaganda.
He hopes that the Police's firm action can be maintained in the future to overcome the problem of intolerance propaganda.
"Hopefully this will be an attitude that the Police will continue to maintain so that we can truly prevent and overcome the problem of propaganda and intolerance developed by a number of parties," he said.
Furthermore, Yahya said that propaganda from radicalism to intolerance in the name of religion often hides behind a gray space, between state law and what is perceived as sharia.
"However, scholars have provided information that complying with applicable state law is complying with the Shari'a," he said.
Previously, the West Java Regional Police named Bahar bin Smith as a suspect in the alleged case of spreading false news or hoaxes. Bahar was immediately arrested after undergoing examination.
Meanwhile, Bahar bin Smith's attorney, Ichwan Tuankotta was surprised that the legal process that befell his client was very fast compared to the handling of cases of other parties suspected of committing blasphemy.
Ichwan said the fast-paced legal process indicated the principle of equality before the law or equality before the law already died. The reason is, the legal process against people who are also suspected of blaspheming religion is running in place.
(rzr / fra)


[Gambas:Video CNN]
fbq('init', '1047303935301449'); fbq('track', "PageView");
.