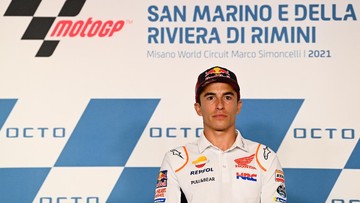 Jakarta, CNN Indonesia —
Observer MotoGP, Carlo Pernat, predict Marc Marquez will not take part in the official training session which will take place at the Sepang Circuit and Mandalika Circuit next month.
The 2022 MotoGP season will start with practice sessions. It started with a shakedown test at Sepang on January 31 to February 2 which continued with official practice at the same location on February 5 and 6.
Five days later, the drivers are scheduled to take part in the second test session at the Mandalika Circuit.
According to Pernat, Marquez experienced vision problems after suffering a concussion in early November and missing the last two MotoGP 2021 series.
"Marc wants to know if he can still race, no one knows about his recovery time. When nothing is said, it means there is no positive news," said Pernat.
"I don't think he will take the February test," Pernat said on GPOne's YouTube show Bar Sport as quoted by Motorcyclesports.
Previously at the end of December, Honda Racing Corporation (HRC) ensured that Marquez's eye recovery went according to plan and Honda believed the owner of the eight world titles could appear in the MotoGP 2022 series opener on March 6.
Through the team's official website, Honda explained that the treatment for diplopia or double vision which causes paralysis of the optic nerve is going well and Marquez's condition is improving.
"Marc Marquez will continue to undergo regular check-ups with Dr. Sanchez Dalmau over the coming weeks along with a conservative treatment plan. This situation does not prevent the Cervera driver from continuing his physical training plan to prepare for the new season," wrote Honda before Christmas 2021. .
This is not the first time Marquez has experienced Diplopia. The racer nicknamed the Ant of Cervera also experienced a similar problem in 2011.
[Gambas:Video CNN]
(nva/nva)


fbq('init', '1047303935301449'); fbq('track', "PageView");
.