Mood swings can be a scary specter when someone can't manage change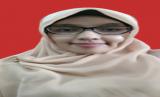 By : Rifa Fauzia (Unindra Postgraduate Student)
REPUBLIKA.CO.ID, Write until the entire burden is blown away. Some time ago, the case of a female student who was found dead in the grave of her beloved father surfaced. She was bullied after her lover gave her medicine to abort the fetus in her womb.
The family that should be the most comfortable place for him, actually bullied him. The mother's heart was broken to see her daughter's departure just like that. The surrounding environment could not accept the reproach experienced by her daughter, so that no one could be wise enough to be an ear to hear all the turmoil she was feeling.
"Women" are patient creatures whose mouths always want to tell stories. But it is undeniable, if the circumstances around him do not always favor him. Of course, this situation requires every woman to be able to find a solution so that what she is feeling can be expressed easily. Lucky if she is a career woman, with her activities can turn the world that is not on her side. However, what if she is a housewife? Who should he complain to, other than his Creator.
Mental problems also appear a lot, one of which is mood swing. Changes in mood or mood that are clearly felt and seen. Mood swing can be the most frightening specter when a person cannot manage the changes that occur to him. Changes that occur can be caused by many things, one of which is hormonal imbalance.
Doing things that you like is a solution to restore your mentality for the better. Something that is liked, not only related to finances. There is someone whose mood will be better after exercising, there is also a much better after watching Korean drama series, not infrequently there are also those who spend time praying to the Creator, and a number of other activities we can find so that someone's mental state is much better .
Reporting from Kompas.com, "Mental health refers to cognitive, behavioral, and emotional well-being. This is what governs how people think, feel and behave. In addition, mental health can also affect daily life, relationships or relationships, and physical health. For example, people with mental health disorders can experience stress, depression, and anxiety which can affect mental health and disrupt a person's routine. Therefore, by maintaining mental health, a person will enjoy life more.
Writing is one solution that can be done to return the situation to normal. Writing does not only have to be done in social media status, there is a diary that can be a place to pour everything you want to express. Later platform write online began to emerge. It seems quite helpful to channel various ideas already in memory. The presence of a paid online writing platform is enough to help many people with a series of writing activities. Not a few people who reap the coffers of rupiah from the habit of writing.
The pandemic situation can also stimulate someone to be creative. Writing is one of the most popular activities. The ideas for writing also vary, starting from everyday stories to fictional stories that are widely read by fans of online readers. From the habit of writing at least 250 words per day, you can produce 1 solo book within one month. It is clear that this is an extraordinary achievement, thereby minimizing the presence of mental health disorders in everyday life. Especially for women who are housewives every day.
A woman needs to spend 20,000 words per day. Meanwhile, men only have 7,000 vocabularies per day. That's why women are much more chatty than men. If verbally it will only make people around you feel annoyed, pour what you want to express in writing. In addition to producing a work that can be read and enjoyed by many people, it can also make the heart much happier. So that its existence will not be overlooked by people around. Everyone can write, everyone can create. All that had to be made up was the determination within him. Will you write?
The benefits of writing were also expressed by the founder of the Almuna Creative writing community, Dania Puspitasari who lives in the city of Jember. He explained, "Writing for me can channel what I think, and then a book is created from the thoughts. Obviously it makes me happy, besides producing coffers, it also produces a series of works. Writing can also certainly make you mentally much better, for example when a problem is overwritten. By writing down other problems that are not experienced, the problems that are being faced can actually be solved. So it makes the brain and heart feel lighter."
As stated in Ahmad Rifa'i Rif'an's book entitled "Super Writer" page 31, "Has a passion for perpetuating thoughts. No matter how simple we think, in essence it is a gift from God that is a pity to ignore. Thoughts that are not written down are very prone to evaporate and just disappear. That is why the classical wills reveal, tie wisdom by writing it down. Lucky are those who write. Lucky because they do not just pass the second by second of his life. They don't let their God-given thoughts pass you by. They record it, share it, to make it into something meaningful, for themselves and for others."
For the few people who like to write. Writing activities succeeded in making his passion for life rise again. From this habit, endorphins are produced from within the body. Mood swings are ignored by themselves. So, stay motivated and grow throughout the day by writing.
Disclaimer:
Retizen means Republika Netizen. Retizen is a place for Republika.co.id readers to gather and share information about various things. Republika makes the selection and has the right to display your various submissions, either in the form of videos, writings, or photos. Videos, writings, and photos that are sent must not be hoaxes, false news, blasphemy, hate speech, pornography and pornography, SARA, and insulting the beliefs/religion/ethnicity of other parties. The responsibility of all content sent is entirely with the sender. Please send videos, writings and photos to [email protected]
.