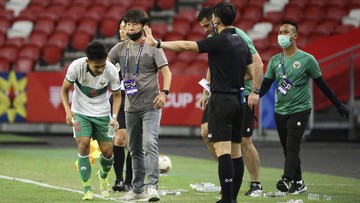 Jakarta, CNN Indonesia —
Coach Indonesian National team, Shin Tae Yong, never ending praising the performance of his foster children in the 2020 AFF Cup event.
After the last match against Thailand on the first day of 2022, Shin gave his appreciation to Asnawi Mangkualam's performance in the press conference session.
A day later, through an upload on social media, Shin also praised the players. In addition to showing photos with Indonesian national team players, the former South Korean national team midfielder also invited people to give credit to Nadeo Argawinata cs.
Shin's sweet words for the Garuda squad players were heard again when answering questions in an interview with Yonhap.
"The players fought until the end, and they improved a lot," Shin said as quoted from Yonhap.
Shin also mentioned things that were not much different from the words written in the uploads on Instagram.
"There are regrets about the outcome of this Suzuki Cup, but the players were quick to congratulate," Shin said.
The Indonesian national team, which is mostly inhabited by young players, has not been able to bring home the AFF trophy. For the sixth time, the Indonesian national team is in the runner-up position.
Even though he failed to occupy the top podium, Shin remains optimistic that he can achieve glory with the Indonesian national team in the future, as he mentioned in the press conference after the second leg final and uploads on social media regarding the target of winning the 2022 AFF Cup.
In addition to being in charge of the Indonesian national team in this year's AFF Cup, Shin will also face a busy schedule because there is an agenda for the U-23 AFF Cup, SEA Games, and Asian Cup Qualification. Not to mention if the Indonesian national team went to the Asian Games.
[Gambas:Video CNN]
(nva/nva)


fbq('init', '1047303935301449'); fbq('track', "PageView");
.