For Ducati Corse General Manager Gigi Dall'Igna the perception of the factory bike Borgo Panigale has changed radically in recent seasons.
For a long time, the Desmosedici was considered too complex to drive, thus making a lot of rider afraid to try it. However, according to Dall'Igna, now that assumption has been eroded.
The Desmosedici has become the most sought after prototype motorcycle in the world grid compared to the other five manufacturers involved in the competition in MotoGP.
Ducati has benefited in this regard from a combination of factors, particularly those that have changed the profile of the championship over the last few years. They are the most represented brand in the premier class.
Last season there were six Desmosedici in grid and the number will increase to eight bikes in MotoGP 2022. And Ducati has built strong connections between the factory team and its satellite team.
Thus, the opportunities to compete in the front row have been doubled. Throughout MotoGP 2021, five out of six rider Desmosedici users took the podium, three of them as winners.
Developments that match the progress made by Ducati to make the Desmosedici a sharper machine. Things have been going great since they got back to winning ways in the 2016 season.
After having had zero wins since 2011, Ducati has been working hard to fix its shortcomings, especially the difficulty of cornering. The Desmosedici has become even more manageable and suitable for a variety of racing styles.
"I don't think this is a transformation that happens in one year. To be honest, over the years Ducati has probably been the bike with the most winning riders," Dall'Igna said GPOne.
"Lots rider who have won with Ducati in the last few seasons: (Andrea) Iannone, (Andrea) Dovizioso, (Jorge) Lorenzo, (Danilo) Petrucci, (Francesco) Bagnaia, (Jorge) Martin, (Jack) Miller."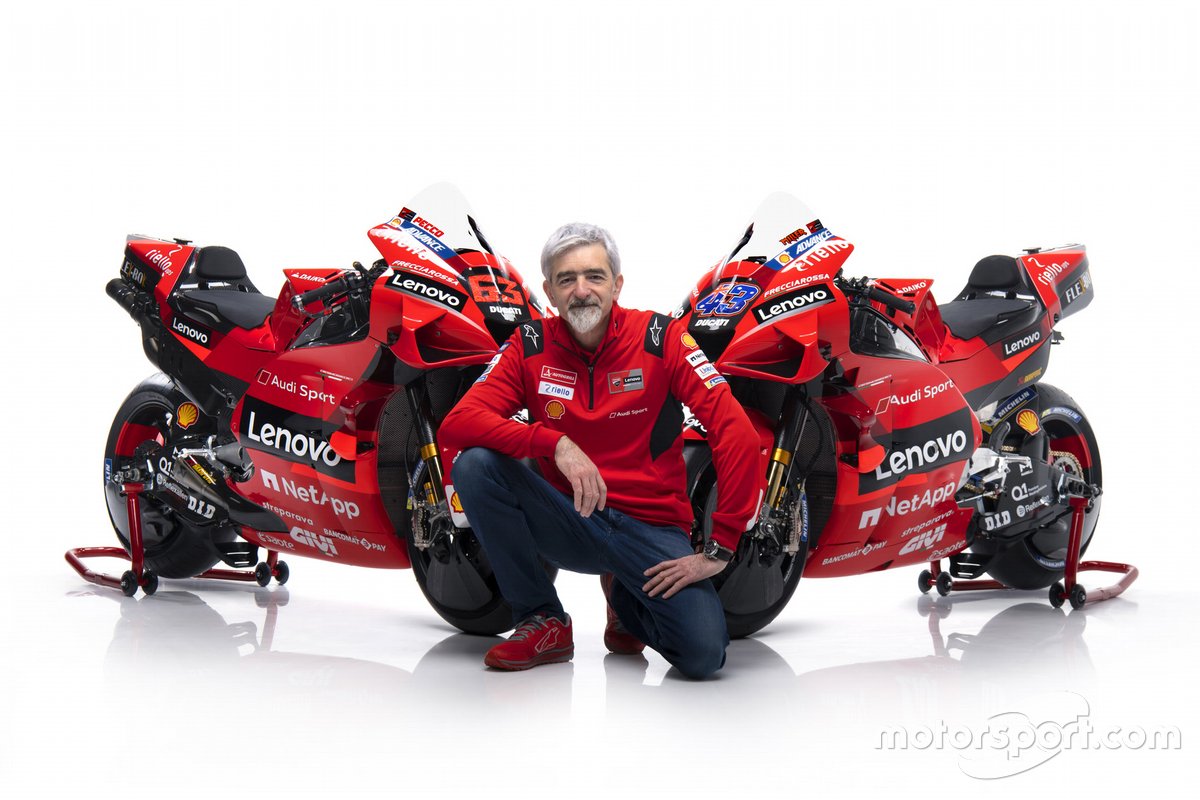 Gigi Dall'Igna, Ducati Team General Manager with the Ducati Desmosedici GP21
Photo by: Ducati Corse
In an interview on the sidelines of MotoGP's first winter test, Dall'Igna stressed that Ducati had won with many riders. That's proof that the Desmosedici is no longer a difficult bike.
"So it's not only this season that we shine. The journey has brought us to grow to this point, a bike that – little by little – is always improving in terms of adaptability to the track and the rider.
"The aim has always been to design a bike that is not only good for one rider, but also one that allows different riding styles to better express themselves.
"I think we're getting closer to a bike that's easier to ride and manage. That's the goal. It's not a simple thing, but we are achieving it gradually. After all, we have achieved it."
Maybe it's a bit of an exaggeration to judge that Ducati has now become the easiest bike in the world grid MotoGP, but undeniably they have some advantages over the machines inline-four.
"Ducati no longer scares drivers. This (Desmosedici) is a bike that even people are looking for because they think they can do great things by riding it," concluded Dall'Igna.
Francesco Bagnaia, Ducati Team, Jack Miller, Ducati Team
Photo by: Gold and Goose / Motorsport Images