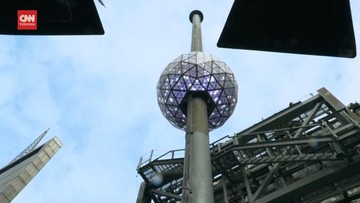 Reuters | CNN Indonesia
Friday, 31 Dec 2021 10:56 WIB
Jakarta, CNN Indonesia —
New Year's Eve 2022 will be held lively in New York's Times Square.
Crystal balls have also been prepared to enliven the event.
Event organizers say the ball will be fitted with 32,000 LED lights that can display 16 million colors and billions of different patterns.
The test ball was carried out on Thursday (30/12) and is ready to be raised to a 39-meter high pole on New Year's Eve.
Even though the celebration was lively, the organizers continued to implement the Covid-19 prokes.
Residents who come to the location are limited to only around 15 thousand, and those who come must show proof of complete vaccination.
fbq('init', '1047303935301449'); fbq('track', "PageView");
.