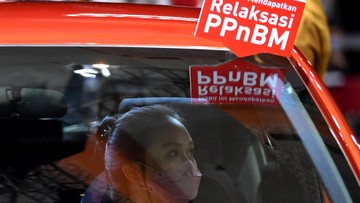 Jakarta, CNN Indonesia —
Minister of Finance Sri Mulyani open voice regarding the request of the Minister of Industry Agus Gumiwang Kartasasmita to free Tax Sales of Luxury Goods (PPnBM) for new cars for Rp. 240 million.
He admitted that he had not been able to decide on the request
"We haven't decided on the PPnBM (free request) yet," Sri Mulyani told reporters, Friday (31/12).
He said President Joko Widodo asked him to examine the request more deeply.
"Mr. President asked for another study, especially with what demandit has improved quite well. So we'll see," he said.
Ani, as she is familiarly called, assesses that currently the government has just exempted Value Added Tax (VAT) for the construction and housing sectors. This incentive is given to encourage the construction and housing sectors to grow more productively.
"Yesterday the President of the VAT decided for housing construction, if we see the construction sector is still lagging behind, (while the trade) manufacturing sector is moving quite strongly," he said.
He said the government would be very careful in choosing policy instruments in order to restore the economy. "So we will use the instrument selectively," he said.
The Ministry of Industry some time ago submitted a proposal to eliminate PPnBM specifically for people's car products to Sri Mulyani.
"The people's car costs Rp. 240 million. It is not a luxury item, so we have proposed the abolition of PPnBM for the people's car," Agus said as quoted by Antara, last Wednesday (29/12).
Besides being sold at a price of Rp. 240 million, the Ministry of Industry defines people's cars as cars with a maximum engine capacity of 1,500 cc and meeting the domestic component level (TKDN) of up to 80 percent.
[Gambas:Video CNN]
"With a price of Rp. 240 million, it is clearly cheaper than other cars. In addition, the 80 percent TKDN can be said to be an Indonesian car," said Agus.
On that occasion, Agus conveyed that he had proposed the exemption from PPnBM because the automotive industry is the key to a country's economic growth.
In addition, he has also proposed incentives based on carbon emissions so that the smaller the vehicle produces carbon emissions, the smaller the tax imposition will be.
"So, we also propose this to the Minister of Finance to be followed up," said Agus.
(fry / agt)

fbq('init', '1047303935301449'); fbq('track', "PageView");
.