Make Instastory Quite Surprising, Liquid Will Farewell from Bigetron Red Aliens?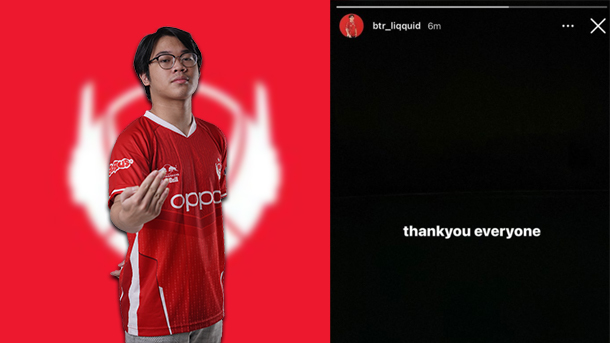 PMGC 2021 East Final has been completed and two Indonesian representatives in the tournament, namely GD GIDS and Bigetron Red Aliens failed to advance to the next phase of PMGC 2021. Bigetron Red Aliens who is a former world champion himself was also unable to do much because he had to be in a position to 16 final standings. After PMGC 2021, there were many rumors circulating that Bigetron Red Aliens would be taking a temporary break from the competitive PUBG Mobile scene. However, surprisingly Liquid, which is one of the personnel from Bigetron Red Aliens, created an Instastory whose caption was quite surprising.
"Thank you Everyone," Liquid said in the Instastory caption on his personal Instagram account. The meaning of the Instastory caption from Liquid has become a hot conversation for PUBG Mobile fans as well as Bigetron Red Aliens fans. There are many theories about this. There are those who say Liquid will farewell, there are theories that say Liquid will go down to ION, and many more.
Also read this:
» Join the Hell Group! MBR Esports is Ready to Bring Indonesia's Name in SEA!
» 'Pull Buff Can't Return' Bug, Moonton Banned Franco from Hero List!
» Asked to Become a Coach or Analyst, Lemon: Skip! If you're no longer a player, it's pensi, what are you doing?
» No Trainers and Analysts in M3, Mobazane: We're Pretty Good at Drafting and Game Analysis!
» SES Goboba Successfully Wins First Place in the UPOINT Esports Major Series Tournament
Instagram Story from Liquid itself is still unanswered. We just need to wait for the truth of the Instastory theory from Liquid from the official social media accounts of the team or the players themselves.
In addition to the main news in this article, the KotGa Crew also has an interesting discussion that you can watch in the video below.


TAGS
pubg mobile

pubg

mobile

sports

bigetron
If you want to send articles, collaborate events and place advertisements (adverstisement) you can email the editor[at]boxgame.com or Hotline (021) 93027183
.