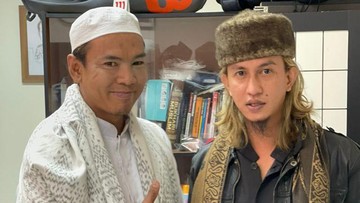 Jakarta, CNN Indonesia —
Speaker's lawyer Bahar bin Smith, Azis Yanuar was surprised because his client was so quickly processed by the police. The case of alleged hate speech has been escalated to an investigation.
The police also sent a notification letter for the start of an investigation (SPDP) by the West Java Police investigator.
"It is lightning fast. We understand that it is suspected that this was forced to be processed, but we were surprised by this lightning process," said Azis to reporters, Thursday (30/12).
However, Azis ensures that his client remains relaxed in facing the legal process for accusations of hate speech. According to him, Bahar actually became a figure who spoke out against injustice.
However, Azis asked the police to be fair in processing the report made by Bahar through Ali Ridho against Husin Shihab alias Husin Alwi at the Bogor Police quickly.
"The one who made the LP (police report) was Babeh Aldo, not HBS. Of course it was appropriate equality before the law, then it must be processed quickly," he explained.
"We leave it to the police because it is their domain," he said.
The report on Husin was received by the Bogor Resort Police on December 28, 2021, with the report number STPP/11/XII/2021/Reskrim.
In proof of receipt of the report received CNNIndonesia.com, Husin was reported to have accused Bahar of twisting or cutting the statement of Army Chief of Staff General Dudung Abdurachman.
For information, the National Police said that they received a total of two police reports in different areas regarding alleged criminal violations committed by preacher Bahar bin Smith.
[Gambas:Video CNN]
Police are processing both reports so far. One of the cases handled by the West Java Regional Police has been raised to be an investigation. This means that the police suspect that a criminal offense has occurred in the reported incident.
The Head of Public Relations of the West Java Police, Kombes Erdi A. Chaniago, stated that Bahar was still a witness in the case. Meanwhile, Bahar is suspected of committing hate speech in a public lecture.
Police Video Response Hugs Bahar Smith
The National Police Headquarters also responded to the circulation of a video showing a number of investigators from the Criminal Investigation Directorate (Ditreskrimum) of the West Java Police meeting with Bahar Smith.
The Head of the General Information Section (Kabagpenum) of the National Police Brigadier General Ahmad Ramadhan stated that no special treatment was given to Bahar. He emphasized that the meeting was limited to submitting the SPDP.
"There is nothing special, delivering SPDP," Ramadhan told reporters at the National Police Headquarters, Jakarta, Thursday (30/12).
He emphasized that police investigators had no other purpose when they came to Bahar's house other than submitting the SPDP. He denied that the investigators had come to Bahar for sowan.
(mjo/pmg)


[Gambas:Video CNN]
fbq('init', '1047303935301449'); fbq('track', "PageView");
.