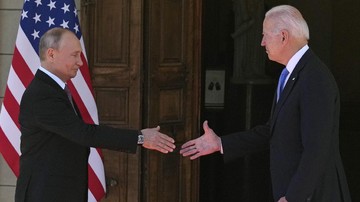 Jakarta, CNN Indonesia —
Russian President Vladimir Putin said "effective dialogue" between Moscow and Washington on tensions with Ukraine is possible.
This was said hours before his phone call with US President Joe Biden, scheduled for Thursday (30/12) at 2030 GMT.
Putin and Biden are scheduled to speak by telephone for the second time in less than a month in a bid to ease tensions over Moscow's military action on the border with Ukraine.
"I am confident that… we can move forward and establish an effective dialogue between Russia and America based on mutual respect and consideration of each other's national interests," Putin said in an official Kremlin statement.
Similarly, the Kremlin said Moscow wanted to resolve its differences with Washington through talks.
"We are in a good mood to talk, this is what we want," Putin's spokesman, Dmitry Peskov, told reporters.
"We believe that it is only through talks that all the problems between us can be resolved," he continued.
The phone call comes ahead of talks between Russia and the United States in Geneva on January 10.
Earlier, a senior US administration official told reporters that Biden, in later talks with Putin, would say "we are ready for diplomacy and for the diplomatic path forward."
"But we are also ready to respond if Russia advances with a further invasion of Ukraine," the official said, adding that "we remain deeply concerned" by the actions of Russian troops near the Ukrainian border.
Washington is known to make a number of accusations related to the movement of Russian troops near the territory of the ex-Soviet country, including accusing Moscow of planning an invasion.
Moscow has denied the accusations and said it expected the West to agree to the comprehensive security demands it put forward earlier this month.
They say NATO cannot accept new recruits and the United States cannot establish new military bases in Ukraine.
(AFP/arh)


[Gambas:Video CNN]
fbq('init', '1047303935301449'); fbq('track', "PageView");
.