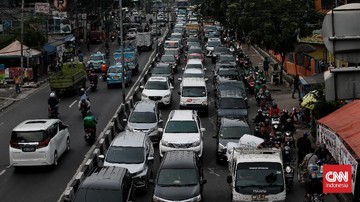 Jakarta, CNN Indonesia —
The government appeals to the public to increase vigilance and reduce mobility, especially during the Christmas 2021 and New Year 2022 (Nataru) periods. This is following the discovery of the Covid-19 variant of the Omicron in the country.
"Avoid crowds and always wear masks. Let's invite our brothers and sisters who haven't been vaccinated to get vaccinated immediately. Those who should get the second dose, immediately go to the health facilities to get the second dose," said Covid-19 Spokesperson for the Ministry of Health, Siti Nadia Tarmizi.
Nadia's statement was revealed in a virtual press conference "Development of the Covid-19 Pandemic: Findings of Omicron Local Transmission Cases" which was broadcast from Media Center Forum Merdeka Barat 9 (FMB9) – KPCPEN, Tuesday (28/12).
Nadia hopes that the joint efforts made can prevent the spread of the Omicron variant in Indonesia, which has now reached 47 cases.
The Ministry of Health previously announced the transmission of the Omicron variant, of which 46 cases were imported cases or cases that came from abroad.
"We report that there is one case of local transmission in Indonesia. So that today there are 47 Omicron cases, consisting of 46 imported cases and one local transmission case," he explained.
Nadia explained that the imported cases were immediately identified so that they could be quarantined to prevent their spread abroad, as well as tracing their close contacts.
However, the findings of one case of local transmission indicate the occurrence of infection among community members in one area, even though they have no history of travel abroad.
"This local transmission case is a man, 37 years old, with no history of traveling abroad for the last few months, or contact with foreign travellers," said Nadia.
He explained, as a follow-up, the government carried out an evacuation process for patients for isolation at the Sulianti Saroso Hospital, North Jakarta.
"The Health Service has coordinated with the Ministry of Tourism and Creative Economy and with places of patient travel history, such as restaurants in SCBD, as well as tracing to parties," he said.
(osc)


[Gambas:Video CNN]
fbq('init', '1047303935301449'); fbq('track', "PageView");
.