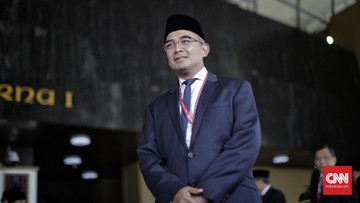 Jakarta, CNN Indonesia —
Member of Commission I from Faction NasDem Muhammad Farhan has proposed to the leadership of the Commission to summon TNI Commander and the Army Chief of Staff related to the hit-and-run case that killed Handi Saputra (18) and Salsabila (14).
Handi and Salsa were a couple who died in a hit-and-run by three Indonesian Army soldiers, Colonel P, Koptu DA, and Kopda A last Wednesday (8/12). The bodies of the two were only found three days later in Banyumas and Cilacap, Central Java.
"We propose to the leadership of Commission I to immediately (prioritize) the agenda for a meeting with the TNI Commander and KSAD regarding this issue and other issues, concerning the duties of the TNI," Farhan told reporters. CNNIndonesia.com, Wednesday (29/12).
According to Farhan, the summons of the TNI Commander General Andika Perkasa and the Army Chief of Staff General Dudung Abdurachman need to be made. In addition to the legal process, he assessed that the case also involved the duties of the three soldiers who were suspected of being the perpetrators.
Farhan said he was surprised because the accident involved a middle-ranking officer with the position of Kasi Intel Military Resort Command 133/Nani Wartabone, Kodam XIII/Merdeka, in addition to two Corporals from the Diponegoro Kodam.
Meanwhile, he said, the accident occurred in the Siliwangi Kodam area, Bandung, West Java.
"So that raises the question, are the three TNI members serving in two different Kodams officially on duty at the Siliwangi Kodam locus or are there other things outside the service?" He said.
This means, said Farhan, that the incident involved cross-regional military command. So, according to him, the Army Chief of Staff as the Power Builder, must step in and explain to Commission I of the DPR.
Even so, Farhan admitted that he did not want to interfere in the judicial process for the three soldiers suspected of being the perpetrators. He fully surrendered if the legal process for the three had to go through military court.
"We respect the legal process according to the applicable procedural law. If they are still members of the military, then they will join the military court," he said.
In that incident, the three TNI AD soldiers were suspected of violating Law No. 22 of 2009 concerning Highway Traffic and Transportation, including Article 310 (threats to imprisonment for a maximum of 6 years) and Article 312 (threats to imprisonment for a maximum of 3 years).
In addition, the Criminal Code Article 181 (threats to imprisonment for a maximum of 6 months), Article 359 (threats to imprisonment for a maximum of 5 years), Article 338 (threats to imprisonment for a maximum of 15 years), Article 340 (threats to imprisonment for a maximum of life).
(thr/pmg)


[Gambas:Video CNN]
fbq('init', '1047303935301449'); fbq('track', "PageView");
.