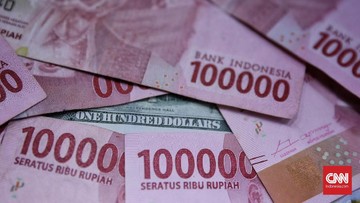 Jakarta, CNN Indonesia —
Exchange rates rupiah is in the position of Rp. 14,214 per dollar AS in market trading spot on Tuesday (28/12) afternoon. Garuda currency strengthened 15 points or 0.11 percent from Rp14,229 per US dollar on Monday (27/12).
On the other hand, the Bank Indonesia (BI) reference rate Jakarta Interbank Spot Dollar Rate (Jisdor) placed the rupiah at Rp. 14,237 per US dollar or weakened from Rp. 14,225 per US dollar on Monday.
In Asia, the rupiah strengthened with the Indian rupee 0.28 percent, the Singapore dollar 0.19 percent, the Malaysian ringgit 0.03 percent, and the Japanese yen 0.01 percent. Meanwhile, the Hong Kong dollar was stagnant.
The rest are in the red zone. The Philippine peso weakened 0.44 percent, the South Korean won minus 0.12 percent, the Thai baht minus 0.03 percent and the Chinese yuan minus 0.01 percent.
Several major currencies of developed countries also weakened from the US dollar, such as the Russian ruble minus 0.19 percent, the Canadian dollar minus 0.07 percent, the British pound minus 0.07 percent, and the European euro minus 0.05 percent.
However, the Australian dollar strengthened 0.03 percent and the Swiss franc 0.01 percent.
DC Futures Senior Analyst Lukman Leong assessed that the rupiah managed to strengthen today because the US dollar was pressured by the issue of the spread of the omicron variant of the covid-19 virus. Because, the spread is quite fast, although it has a mild effect on the sufferer.
"Omicron's uncertainty is starting to resurface, risk appetite continued on the exchange, until the US dollar was depressed, and the rupiah strengthened, "Lukman told CNNIndonesia.com.
In addition, the US dollar also weakened due to the sentiment of an increase in the US central bank's benchmark interest rate, The Federal Reserve again surfaced in the market. This also raises the rate of return (yield) U.S. debt securities, U.S. Treasury in the market.
[Gambas:Video CNN]
(uli / sfr)

fbq('init', '1047303935301449'); fbq('track', "PageView");
.