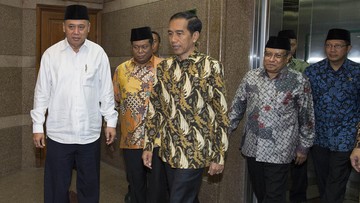 Jakarta, CNN Indonesia —
Former Deputy Head of the State Intelligence Agency (BIN) As'ad Said Ali claiming the reason for running as a candidate for general chairman of the Nahdlatul Ulama Executive Board (PBNU) in Indonesia NU's 34th Congress Lampung to embrace all NU citizens who have recently had different views.
The difference in views has sharpened as only two candidates have come forward as presidential candidates, namely the incumbent Said Aqil Siraj and Yahya Cholil Staquf.
"I want to reconcile everything. There can't be any check-ups at NU. We have to embrace all," said As'ad when contacting CNNIndonesia.com, Thursday (23/12).
As'ad confirmed his choice to run because he benefited from the tough competition between the two candidates for the PBNU caketum recently.
He said that because of the two candidates, it often led to fierce competition with each other.
"This causes discomfort. My opportunity is there," he said.
Not only that, As'ad claims to be urged by many parties, including kiai and NU scholars to come forward as Caketum. Moreover, recently the competition ahead of the congress has created a sharp polarization within NU.
As'ad claims to have received a lot of support from regional administrators. However, he did not specify the coast how much support. However, he was so sure that he could go through this contest because he had initiated the NU movement cadre program.
"The stronger the pressure, there are only 2 candidates accompanied by a drama. It's a sharp polarization. It pushes me more and more, Pak As'ad, there is a middle force," he said.
Yahya Staquf's broken voice
As'ad further denied the news that he was running for the chairmanship of PBNU to undermine Yahya Staquf's vote. As'ad said he had his own base of supporters. He claimed he had no intention of stealing the vote from Yahya.
"If he takes a vote, he hasn't won yet. It's just an assumption. I didn't vote, it was my own supporters," said As'ad.
As'ad admitted that he had not calculated his chances of winning. However, he was so sure that he could go through this contest because he had initiated the NU movement cadre program.
"We have already made education for NU cadres with a total of 11 thousand points starting from 2011 until now. Even though I did not participate in 2016, it still prepares for independence," he said.
As'ad also responded to the hashtag #KyaiAsadAliWin on Twitter. He is grateful to receive moral support from the community. However, he emphasized that the support did not change anything in the election of the PBNU general chairman.
"What is important is the support in the trial. Yes, we don't know the count yet," said As'ad.
(rzr / DAL)


[Gambas:Video CNN]
fbq('init', '1047303935301449'); fbq('track', "PageView");
.