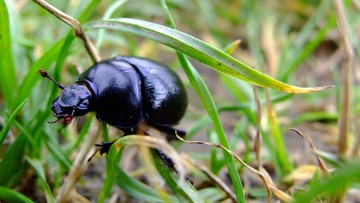 Jakarta, CNN Indonesia —
Researchers found strange behavior in the form of oral sex desert beetle before marriage. Researcher Xinghu Qin and colleagues call this ritual something that male beetles must do before mating or copulating with females.
Qin made this discovery while exploring the interior of Mongolia's Hunshandake Desert. There Qin noticed some strange behavior between two ladybirds mating in the open, where one beetle was constantly licking the other's tail.
"What are they doing?" asked Qin, then a graduate student at the Chinese Academy of Agricultural Sciences.
The beetles are the Mongolian desert beetle or Platyope mongolica, which spends most of its life hiding under grass and desert sand but sometimes appears to mate.
Reported in Ecology and Evolution, Qin and his colleagues describe the newly discovered oral sex ritual as something males of the species must perform before mating with females.
"We have observed self-licking behavior in many animals. But male or female licking of a partner's genitals, especially in beetle-like insects, is actually rare," said Matjaž Gregori, an entomologist at the Jovan Hadži Institute of Biology in Slovenia, who was not involved in the study. this research.
Reported from Scientific American, when the male Mongolian desert beetle finds a potential mate, it starts rubbing its protruding mouthparts over the female's genitals.
If what the male does does not meet the female's standards, the female will run away. The longer the male performs the oral sex ritual, the shorter it will take him to successfully mate in the future.
The breeding season for desert beetles usually begins in early May, and the beetles will be seen emerging from the bushes in broad daylight in search of a mate.
Prospective mates are quite easily recognizable because the male will start chasing the female. At first, the female will push but if in the mood, the female will stop, then let the male chase.
The researchers observed that the males would make their first contact with the female's genitals first.
Reported from IFL Science, some observations revealed that the complete mating cycle of the beetle consists of four steps, namely pursuit, oral sexual contact, latching, and then mating or coitus.
"This is the first time that precopulated oral sexual behavior in the desert beetle, P. mongolica, has been reported," said the study authors.
"We investigated the role of this oral sex behavior in mating. The results suggest that oral sexual contact before copulation, an important phase of mating latency in P. mongolica, plays an important role in copulation," he added.
(lnn / fea)


[Gambas:Video CNN]
fbq('init', '1047303935301449'); fbq('track', "PageView");
.