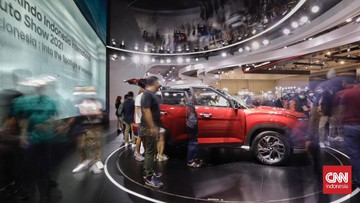 Jakarta, CNN Indonesia —
Dozens of new cars have the potential to get incentives in the form of discounts on Sales Tax on Luxury Goods (PPnBM) permanently next year based on the proposal of the Ministry of Industry (Kemenperin).
Two weeks ago the Minister of Industry Agus Gumiwang said that one of the main conditions for a car to get a permanent PPnBM discount that is being pursued is to have a local content of at least 80 percent.
"Meanwhile, to fight for 0 percent permanently so that there is a permanent 0 percent PPnBM regulation, but the condition is that the local component must be 80 percent," Agus said quoting Antara, Friday (10/12).
Currently, the government has provided PPnBM discounts for 36 cars produced in Indonesia on condition that they have local purchase components of 60 percent. The list of cars receiving this policy is regulated in the Decree of the Minister of Industry Number 1737 of 2021.
If you observe the rules, there are 11 cars that already meet the local content requirements above 80 percent. While the other 25 cars are still below 80 percent.
The list of 11 new cars whose local content is above 80 percent are:
1. Toyota Veloz 83 percent
2. Toyota Kijang Innova 2.0 83 percent
3. Toyota Agya 85 percent
4. Toyota Calya 85 persen
5. Daihatsu Sigra 85 percent
6. Daihatsu Ayla 85 percent
7. Mitsubishi Xpander 80 percent
8. Mitsubishi Xpander Cross 80 percent
9. Nissan Livina 80 percent
10. Honda HR-V 1.8L 84 percent
11. Honda Brio Satya 91 percent
While those that are not yet 80 percent are as follows:
12. Toyota Avanza 78.9 percent
13. Daihatsu Xenia 79.2 percent
14. Toyota Yaris 74.4 percent
15. Toyota Vios 74.4 percent
16. Toyota Sienta 72.9 persen
17. Toyota Innova 2.4 70 percent
18. Toyota Fortuner 2.4 4×2 70 percent
19. Toyota Fortuner 2.4 4×4 70 percent
20. Toyota Rush 74,8 persen
21. Toyota Raize 74,8 persen
22. Daihatsu Rocky 70 percent
23. Daihatsu Gran Max 77.1 percent
24. Daihatsu Luxio 70.4 percent
25. Daihatsu Terios 75.2 percent
26. Honda Brio RS 78 percent
27. Honda Mobilio 75 percent
28. Honda BR-V 76 percent
29. Honda CR-V 1.5 T 62 persen
30. Honda HR-V 1.5L 70 percent
31. Honda CR-V 2.0 CVT 62 percent
32. Honda City Hatchback 70 percent
33. Suzuki New Ertiga 70.5 percent
34. Suzuki XL7 71.5 percent
35. Wuling Confero 70.5 percent
36. Wuling Formo 70.4 percent
The efforts of the Ministry of Industry to make the PPnBM discount permanent on condition that the local content is above 80 percent have been appreciated by car manufacturers in Indonesia.
Even Astra Daihatsu Motor, the largest car manufacturer in Indonesia, explained that one of its models, the Xenia, has met the minimum 80 percent requirements.
In addition, Honda Prospect Motor (HPM) also claims that the local content of the new generation BR-V has touched 84 percent.
The government considers the PPnBM discount for 36 cars to have had a positive impact on the domestic automotive industry, which had slumped due to the Covid-19 pandemic.
Agus said that the provision of permanent PPnBM discounts on condition that the local content was increased to 80 percent needed to be fought for and received special attention.
The auto industry is said to employ 1.5 million employees directly and there are tens of millions of indirect workers. This industry is also said to have absorbed an investment of at least Rp. 150 trillion.
PPnBM discounts have helped increase new car sales in the country. During January-November sales reached 790,524 units, this is up 66.5 percent from the results of the same period in 2020.
(ugly)


[Gambas:Video CNN]
fbq('init', '1047303935301449'); fbq('track', "PageView");
.