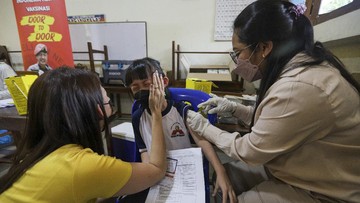 Jakarta, CNN Indonesia —
The government hopes that the Covid-19 vaccination for children aged 6-11 years can contribute to the creation of communal immunity or herd immunity. Starting in mid-December, vaccine enthusiasts are said to have increased.
"Therefore, the role of parents is very necessary," said the Director General of Disease Prevention and Control at the Ministry of Health, Maxi Rein Rondonuwu.
The implementation of the vaccine for children has started from areas with coverage of the first dose of vaccination above 70 percent and vaccination for the elderly above 60-six. Kick offs are carried out in 115 districts/cities, and will continue to grow.
Based on observations in the past week, more than 500 thousand children have been vaccinated. The number is considered still far from the target of 26.5 million children.
"But this is only the first week and there are more and more fans, it is hoped that it will run smoothly in the future," he said.
Maxi added, it is important for parents to understand the purpose of vaccination to prevent the entry of the virus. According to him, many diseases can be prevented by immunization. If illness can be prevented automatically, he said, then it can prevent death.
"Vaccination of school children, so when he comes home, it is safe, especially if there are grandparents at home. Especially now that there is limited face-to-face learning (PTM), so it's better for children to be vaccinated," he said.
The vaccine used for children is the Sinovac vaccine which has received EUA (emergency use permit from the POM) and has been approved by ITAGI. Vaccination of children is carried out in a number of health care facilities, such as health centers, hospitals, as well as a number of vaccination centers, including schools.
"In fact, it is hoped that vaccinations can be carried out in schools, in this case the Ministry of Health cooperates with the Ministry of Education and Culture. And with the Ministry of Religion, for religious-based schools and foundations," said Maxi.
In addition, the implementation of vaccination for children aged 6-11 years is assisted by the Regional Government, the Indonesian National Police, as well as other stakeholders such as the private sector and religious organizations. No less important, Maxi emphasized, is the role of parents and the community in conveying correct information and fighting hoaxes.
He emphasized that it would be better if the vaccination at school also brought parents so they could witness it.
"Later on, children who have been vaccinated can explain to other children, as well as parents whose children have been vaccinated, can share with other parents whose children have not been vaccinated," he said.
On the same occasion, the Head of the Indonesian Technical Advisory Group on Immunization (ITAGI), Sri Rezeki Hadinegoro explained the reasons why children need to be given the Covid-19 vaccine.
"If we look at it, children aged 6-11 years if they get Covid tend to be mild or asymptomatic. However, Covid can also cause severe symptoms and must be treated, especially children with comorbidities, such as congenital heart disease, diabetes and asthma," he said.
Sri added that although the clinical symptoms of COVID-19 in children were mild, these children could still transmit the virus to people around them, including to elderly family members.
"If grandparents with comorbidities have not been vaccinated, then if they are infected with COVID it can be dangerous. So vaccinating children has benefits for themselves and others. Moreover, children are preparing for PTM, so vaccination needs to be done. These children must be immune so they don't get infected -contagious," he said.
He said to achieve herd immunity, it is necessary to intensify vaccination of 70 percent of the vaccination target or 40 percent of the population, including children. In addition, Sri emphasized that the implementation of the 5M program and vaccination must be done together, in order to minimize transmission. Related to this, he also explained the risk of children becoming super spreaders.
"There are cute children being carried and kissed, even though they are OTG so that they can be transmitted to other people. By running Prokes and vaccinations, the transmission will be minimal. If the illness is mild, the death rate can be reduced. If there is a disease that causes people to die, it means that there are still problem," he said.
Regarding the location of the vaccination, he said, there is a reason why vaccination of children aged 6-11 years should be carried out in schools, as the BIAS (School Child Immunization Month) program is usually held in October-November. It is said to be related to the psychological condition of the child.
"At school, the atmosphere is different than vaccination is done in a hospital. Moreover, seeing other children being injected without crying, the child will be embarrassed if they cry. In addition, there are teachers who are already known, their parents can wait. In addition, the arrival of the children can be arranged "Don't be in groups. Schools must provide facilities in case of an emergency, such as oxygen and infusion sets, and there are UKS teachers who are responsible for sick children," he said.
Sri also reminded the importance of pursuing routine immunizations every year for children, who during the Covid pandemic were admitted to being left behind because all resources were mobilized to overcome the pandemic. Therefore, he encourages parents to reconfirm the schedule of the Ministry of Communications and Information Technology.
He explained that the Covid-19 vaccine and routine immunizations could be carried out within two weeks. For children who have allergies, Sri recommends parents to vaccinate their children at health facilities that have complete equipment, so that if there is a post-vaccination reaction, it can be treated as soon as possible.
(rea)


fbq('init', '1047303935301449'); fbq('track', "PageView");
.