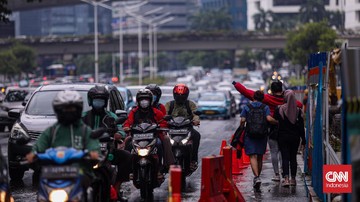 Jakarta, CNN Indonesia —
Research and Development Agency Ministry of Health (Ministry of Health's Balitbangkes) recorded the distribution of cases viral mutation SARS-CoV-2 which is classified as Variant of Concern (VoC) aka the variant that the World Health Organization (WHO) is wary of currently amounts to 6,263 cases in Indonesia.
WHO has just determined five variants that fall into this category, namely B117 Alpha, B1351 Beta, B1617.2 Delta, B.1.1.529 Omicron, and P1 Gamma, and only P1 has not been identified in Indonesia so far.
The Delta variant was the most common with 6,157 cases in Indonesia, followed by the Alfa variant with 81 cases, the Beta variant with 22 cases, and the Omicron variant with 3 cases.
The findings are known based on the November 19 data report which was just uploaded by the Ministry of Health's Balitbangkes through the https://www.litbang.kemkes.go.id/ page today, Tuesday (21/20). The number of VoC findings in Indonesia has increased by 611 cases in just 15 days.
Thousands of variant findings were identified in Indonesia based on the Whole Genome Sequencing (WGS) examination method for a total of 10,358 specimens examined. The number of examinations increased by 831 specimens examined from last December 6, which amounted to 9,527 specimens examined.
To find out more detailed distribution details. The following is the distribution of provinces and case findings of the four variants that WHO is wary of.
Variant Delta 6,157 Cases
North Sumatra: 168 cases
West Sumatra: 75 cases
South Sumatra: 59 cases
Aceh: 54 cases
Bengkulu: 28 cases
Riau: 127 cases
Lampung: 6 cases
Jambi: 195 cases
Riau Islands: 52 cases
Bangka Belitung Islands: 64 cases
Banten: 51 cases
West Java: 999 cases
DKI Jakarta: 1,690 cases
DIY: 91 cases
East Java: 129 cases
Central Java: 361 cases
Bali: 157 cases
West Nusa Tenggara: 67 cases
East Nusa Tenggara: 103 cases
Central Kalimantan: 24 cases
East Kalimantan: 579 cases
North Kalimantan: 75 cases
West Kalimantan: 249 cases
South Kalimantan: 157 cases
South Sulawesi: 58 cases
West Sulawesi: 40 cases
North Sulawesi: 216 cases
Central Sulawesi: 65 cases
Southeast Sulawesi: 20 cases
Gorontalo: 30 cases
Maluku: 43 cases
North Maluku: 48 cases
Papua: 53 cases
West Papua: 24 cases
Variant Alfa 81 cases
North Sumatra: 2 cases
Riau: 1 case
South Sumatra: 1 case
Lampung: 1 case
Riau Islands: 10 cases
DKI Jakarta: 38 cases
West Java: 20 cases
East Java: 4 cases
Central Java: 1 case
South Kalimantan: 1 case
Bali: 1 case
East Nusa Tenggara: 1 case
Beta variant 22 cases
West Java: 3 cases
DKI Jakarta: 12 cases
East Java: 6 cases
Bali: 1 case
Omicron 3 Case Variant
DKI Jakarta: 3 cases
(khr/ain)


[Gambas:Video CNN]
fbq('init', '1047303935301449'); fbq('track', "PageView");
.