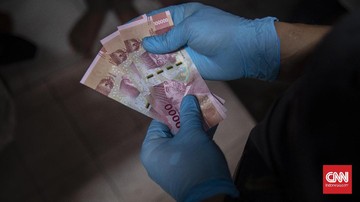 Jakarta, CNN Indonesia —
V Commission Member DPR Hamid Noor Yasin highlighted the benchmark rules for the allocation of Direct Cash Assistance (BLT) Village Fund. The reason was that the representatives of the Indonesian Village Apparatus Association (Apdesi) protested against this provision.
Hamid said that the provisions for setting up BLT allocations, which were set at a minimum of 40 percent of the Village Fund, made it difficult for village officials, especially village heads, to allocate Village Funds equitably and fairly in their villages.
The difficulty in question, among others, is because the number of Beneficiary Families (KPM) is not too many. But on the other hand, development needs still have to be prioritized.
"The government must listen and invite village officials to find the best solution," said Hamid as quoted from Between, Sunday (19/12).
According to him, the minimum 40 percent BLT for Village Funds can violate the provisions of Law Number 6 of 2004 concerning Villages, in Article 72 paragraph 2, namely the budget allocation as referred to in paragraph (1) letter b sourced from Central Expenditures by streamlining village-based programs. evenly and fairly.
However, he said the government was actually on the right track to give priority this year to national economic recovery by revitalizing BUMDes.
Another appropriate step is related to the development of productive micro-economy and BLT which is pegged at IDR 300 thousand for KPM. The percentage is not pegged at 40 percent directly from the Village Fund allocation.
Therefore, Hamid admitted that he would discuss with the relevant ministers to find the right formulation at the working meeting at the next session intensively.
Meanwhile, Minister of Villages, Development of Disadvantaged Regions and Transmigration (Mendes PDTT) Abdul Halim Iskandar said that the Village Fund budget allocation of 40 percent for the Village BLT Program is a form of siding with the poor.
"All village heads and village officials must support this. This is a form of the government's totality in reducing extreme poverty in the village," Abdul added, last Friday (17/12).
According to him, 40 percent of the Village Fund for the Village BLT Program can accelerate the handling of poverty and alleviation of extreme poverty in villages.
Abdul also conveyed that based on Presidential Regulation (Perpres) Number 104 of 2021 concerning the Details of the 2022 State Budget, 40 percent of the Village Fund was allocated for BLT, 30 percent for food and animal security programs, 8 percent for funding support for handling COVID-19, and the rest for other priority sector programs.
[Gambas:Video CNN]
(mrh/bir)

fbq('init', '1047303935301449'); fbq('track', "PageView");
.