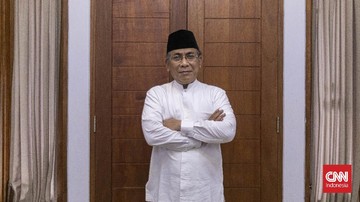 Jakarta, CNN Indonesia —
Katib Aam General Manager of Nahdlatul Ulama (PBNU) KH Yahya Cholil Staquf or Gus Yahya revealing one of the reasons for running as General Chair PBNU namely to revive the idealism, vision, and ideals of KH Abdurrahman Wahid or Gus Dur.
According to Gus Yahya, Gus Dur's legacy is still relevant today, it is even said to remain so for decades to come. He said Gus Dur was gone but that 'abortion' was still needed.
He said the current need was to build something that could substitute for Gus Dur's presence, for example an organizational-based construction.
"The reason for nominating as chairman of PBNU is the right moment to bring Gus Dur back," said Gus Yahya after reviewing the book Living Gus Dur's Life (Memories of KH Yayha Cholil Staquf) in Jakarta, Sunday (19/12).
Nahdlatul Ulama is said to be the right medium to rebuild the domestic and international dynamics that Gus Dur had initiated and fought for.
If elected as the General Chairman of PBNU, Gus Yahya explained how to revive Gus Dur, for example, to build a national agenda, described in the programs that must be implemented by NU instruments up to the branch level.
Dus Dur was revealed to have had the idea of ​​building a People's Credit Bank (BPR) down to the sub-district level by utilizing the NU instrument network.
"This is Gus Dur's idea, but it has never been built through a proper strategy," he said.
The 34th Nahdlatul Ulama Congress will be held on 22-23 December 2021 in Lampung, this event is expected to be attended by nearly 2,300 people. Gus Yahya is predicted to compete with KH Said Aqil Siroj, the current General Chair of PBNU, for the position.
(ANTARA/fea)


[Gambas:Video CNN]
fbq('init', '1047303935301449'); fbq('track', "PageView");
.